Introduction
Walking is the most basic mode of transportation. It has lots of benefits that match the sustainability pillars: society, economy and environment. In terms of benefits to society, walking is the simplest way of performing physical activities. People walk to work or recreational facilities. People also walk to neighbourhood shops and shops within shopping malls. Walking 10,000 steps will burn about 400 to 500 calories. People become healthier if they can meet this challenge daily. In addition, people can meet more people while walking. They will at least greet each other since the people they meet while walking come from the same neighbourhood or the same office building. Thus, the more you walk, the more people you know. According to health studies, walking has a lot of health benefits. First, it increases cardiovascular and pulmonary fitness. Second, it reduces the risk of heart disease and stroke. Third, it improves management of hypertension, high cholesterol, joins and muscular pain or stiffness and diabetes. Fourth, it increases muscle strength and endurance, and finally, it reduces body fat. Walking has an impact on human lives (Maciejczyk, Wiecek, Szymura, & Szygula, 2016) and health (Foster, Knuiman, Hooper, Christian, & Giles-Corti, 2014).
In terms of economy, walking allows people to view more. In a commercial area, walking promotes people to view the products sold at the shops. As they walk in front of the shops, they will scan through the products being displayed at the shops. They have flexible time to scan the products. They may stop and buy the products that interest them. This activity will indirectly generate economy in neighbourhood commercial area. In a conservation area, walking allows visitors to appreciate the value of the local heritage asset. They will have flexible and ample time to view and appreciate these assets as compared to driving. Walking allows visitors to visit heritage café or food outlets that serve traditional dishes. They can also view the preparation of these local dishes. They may enter and eat at these food outlets. This situation will then assist the local people in generating more income (Litman, 2003).
In terms of environment, walking is the greenest mode of transportation. It doesn't take any carbon footprint. So, the air will be clean all the time. It also does not require many trees to be chopped down to prepare for its infrastructure. Furthermore, it promotes the use of public transportation. Damage to the environment will be minimal.
The descriptions above show the benefits of walking to people, economy and environment. Walking not only stimulate health returns to the people but also generate economic returns to the local community. Thus, walking should be promoted in any neighbourhoods. However, to promote people to walk, there are requirements to be met. Therefore, this paper describes the dos and don'ts for walking.
Maslow's Hierarchy of Needs for Walking
Let's assimilate walking needs according to the Maslow's hierarchy of needs pyramid. What are the needs of walking? Physiological and safety would be the first needs. The second needs are esteem and belongingness. And finally, the third needs are self-fulfilment. Figure 1 shows the Maslow's hierarchy of needs pyramid.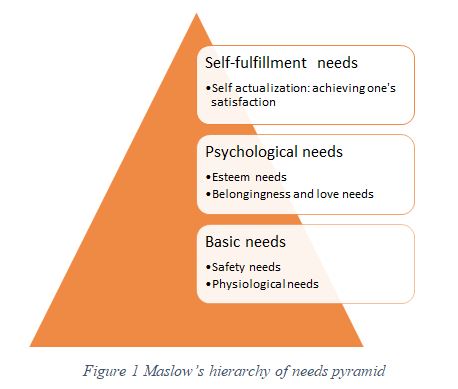 The first and second needs refer to the neighbourhood environmental attributes. Good walking infrastructure will consider a lot of factors such as wide covered walkways, ramp, zebra crossings, continuity, trees, etc. Safety and security also play a major role in promoting people to walk. Perceived safety and security can affect people's decision to walk to a destination from home or workplace (Foster, Knuiman, Hooper, Christian, & Giles-Corti, 2014).
The psychological needs for walking can be met by providing features that can distract people from feeling bored while walking. These features include flowers, shops, vending machines, flower plants, water fountain, benches, trees and many others. They can stop to look at the flowers, take a seat to rest for a while and watch water fountain. These are elements of neighbourhood attributes.
The Dos
Walkway width, buffer and trees

Walkway with ample width will encourage people to walk. Likewise, buffer along the walkway also provides a sense of safety and security to the people using the walkway. Lots of trees available will not only provide share but gives the green view to the eyes of the people. Figure 2 shows the wide and safe walkway that allows two-way pedestrian traffic.

Ramp

The ramp is necessary to provide a good walking experience to a family with children, elderly and people with special needs. Figure 3 shows a sample of a good ramp.

Zebra crossing

There are many types of the zebra crossing. A three-D zebra crossing will alert drives of motorised vehicles to slow down and give way to pedestrians to cross roads in commercial areas. Figure 4 shows an example of a three-D zebra crossing.

Light indicator or signage

Light indicator or signage that signals the motorized road users to slow down their vehicles must be provided in commercial areas. This action will alarm these users to alert at all time when passing through a commercial area.

Separate walkways and bicycle lanes
The Don'ts
The walkway that serves no purpose

What are the don'ts for walking? Building a walkway next to a highway. There are no users who are willing to walk here. It is dangerous since it is too narrow, and there are no safety and security measures. It doesn't seem to meet any purpose. Figure 5 shows the unnecessary walkway that was built next to a highway.

The walkway that stops in the middle of nowhere

In order to promote walking in a neighbourhood, the continuity of walkway infrastructure must be addressed. Figure 6 shows a walkway that ends abruptly. This situation must be avoided at all time.

Missing buffer or bollards along a walkway adjourning to a motorized vehicles' lanes

Safety and security are important to pedestrians. To avoid crimes such as snatch thieves and being hit by motorized vehicles, buffer or bollards should be provided at these walkways. Figure 5 shows the missing buffer or bollards.
Conclusion
Meeting all the first and the second needs will motivate people to walk more. Once the third needs are achieved, the motivation will reach the actualization. Walking should be taken for granted. It should be well thought of in order to promote people to walk more in a neighbourhood or workplace or commercial area.
Acknowledgment
The author wishes to thank the University of Malaya for grant no. LL039-18SUS.
References
BBC News. (2019). 'UK's first' 3D zebra crossing created in St John's Wood. Retrieved from https://www.bbc.com/news/uk-england-london-47402269
Foster, S., Knuiman, M., Hooper, P., Christian, H., & Giles-Corti, B. (2014). Do changes in residents' fear of crime impact their walking? Longitudinal results from RESIDE. Preventive Medicine, 62, 161-166. doi:https://doi.org/10.1016/j.ypmed.2014.02.011
Litman, T. A. (2003). Economic Value of Walkability Journal of the Transportation Research Board, 1828, 3-11.
Maciejczyk, M., Wiecek, M., Szymura, J., & Szygula, Z. (2016). Effect of Body Composition on Walking Economy. 17(4), 222. doi:https://doi.org/10.1515/humo-2016-0034
Written by : Rosilawati Zainol

Centre for Sustainable Urban Planning and Real Estate, Centre for Civilisational Dialogue, University of Malaya, Kuala Lumpur.